A development application (with several minor changes) has been lodged for a tavern and retail warehouse, located at 39 – 49 Logan River Road, Beenleigh.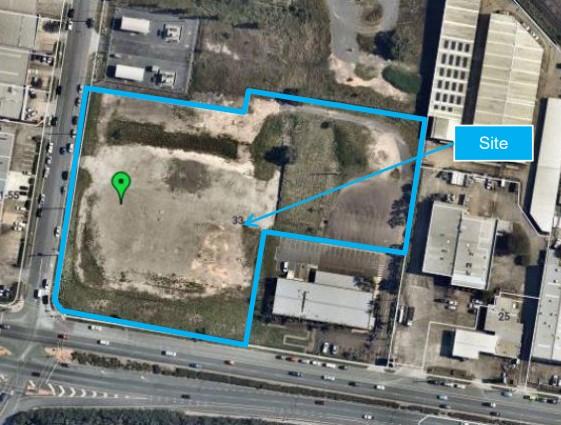 Designed by Thomson Adsett and KP Architects, the proposal seeks two new stand alone buildings over the vacant site, accommodating a tavern and retail warehouse (showroom tenancies) to provide a mixed-use centre for Beenleigh. 
The tavern fronts the corner of Logan River Road and Spanns Road, with the retail positioned to the northern boundary with frontages to Spanns Road. The proposal will be across a vacant site cleared of all structures.
Development Details
Tavern
– 1,635sqm of GFA
– Sports bar and TAB area (155sqm)
– Gaming room (250sqm)
– Bar area (70sqm)
– Bistro (175sqm)
– Alfresco (170sqm)
– Beer Garden (170sqm)
– Toilets, cashier and office area
– Kitchen, servery, cold room, keg room and back of house area.

Retail / Showrooms
– Bottle Shop (1,000sqm)
– Medical (600sqm)
– Showroom/Office (481sqm)
– Showroom (1,200sqm)
– Indoor Sport and Rec (1,562sqm)
– Rear servicing and delivery vehicles
Operating hours
– Showroom: 6:00am to 10:00pm Monday – Sunday
– Tavern: 10:00am to 2:00am Monday – Sunday
The planners at Urbis state the proposal includes, "A range of streetscape planting along the frontages of Logan River Road and Spann Road. This includes groundcovers, shrubs and small trees to assist in delineating between vehicular and pedestrian access to the site and to help improve visual amenity between the proposed buildings, hardstand car parking areas and the streetscape interface"
"The proposal illustrates a setback to the tavern of approximately 2 metres to Logan River Road. The building has been designed close to the lot boundary intentionally to facilitate visual engagement with the streetscape through implementation of an architecturally designed screening / façade element towards the south".
The proposal seeks 6,478sqm of gross floor area (GFA), with a site cover of 7,144.20sqm (42%) on the 17,010sqm site.
We encourage you to like the Your Neighbourhood Facebook page, to be updated on other projects or developments.
The Application Information and References
– Date Lodged: 1 October 2021
– Council Reference: MCUC/69/2021
– Address: 39 – 49 Logan River Road, Beenleigh
– Zone: Mixed Use
– Application Report: Urbis
– Design Drawings: Thomson Adsett and KP Architects
– Landscape Architect: CUSP
Subscribe to our weekly newsletter

Liked Your Neighbourhood ?
News articles are presented in an unbiased manner from information publicly accessible that include referenced links for the reader to obtain any further information. The facts of the proposed government projects, media releases, school upgrades and development applications are based on the available information at the time of the published date, with information sourced directly from company websites, media releases and development application material. We reference all our information at the end of the articles and promote the creators with website back links.
(Visited 522 times, 1 visits today)