The Queensland State Government has announced that several  infrastructure projects to the investment of $17 million will be completed at the Mackay Port in over the next year,
The Mackay Port will be provided a new tug berth facility, Wharves 1 and 4 upgrades, seawall repairs and essential maintenance dredging.
Mark Bailey, Transport and Main Roads Minister outlined the importance of the upgrades
"We're all aboard when it comes to jobs and making sure our world-class exports can get from Mackay to the world,"
"Over the past two years, we've upgraded the Vines Creek bridges to improve access to Mackay's port, we opened the Mackay Ring Road this weekend and now we're turning our attention to building the Walkerston Bypass and, after that, the Mackay Port Access road".
"All of these projects are connected to ensure our primary industries are supported with a road network to help their product get from the paddock and pit to our port".
"The Palaszczuk Government, through our publicly-owned North Queensland Bulk Ports (NQBP), has approved a $17 million package of works that will boost the regional economy and increase opportunities for attracting trade to the region.
"Queenslanders have rallied together to manage the health impacts of COVID-19. Because of their effort we can get on with Queensland's plan for economic recovery and jobs. That includes backing our publicly-owned ports".
"Apart from more than 120 North Queensland Bulk Port employees, our ports are a place of work for more than 1000 Queenslanders and support a further 28,000 direct trade jobs involved in mining, farming and transporting trade". Mr Bailey said.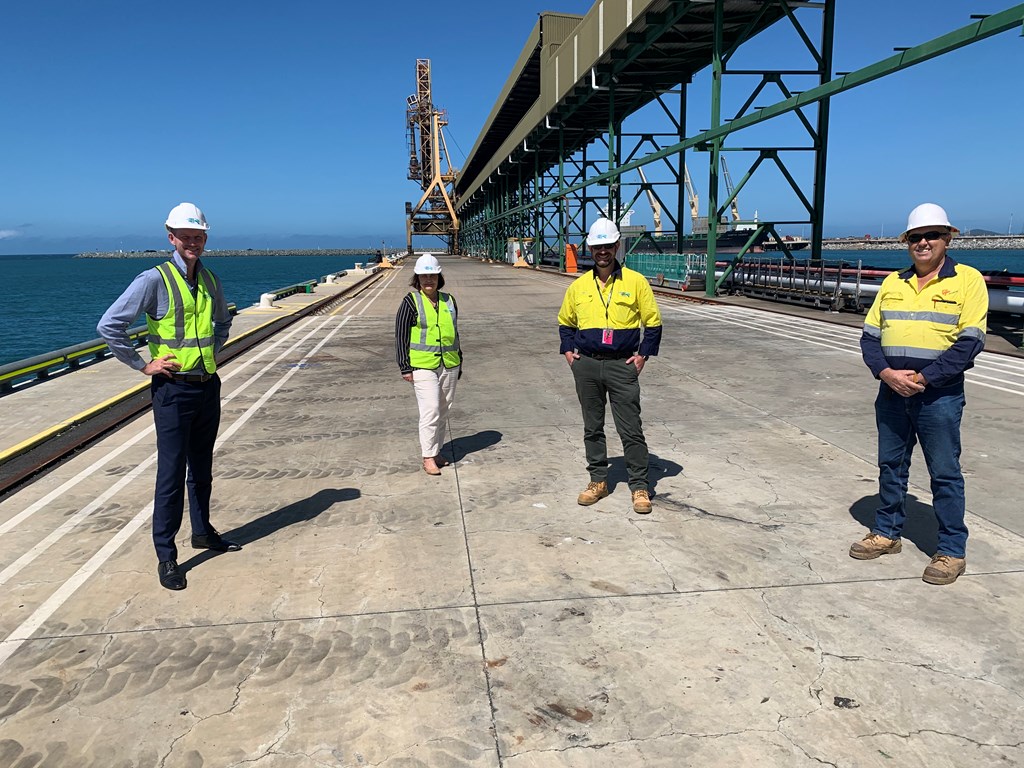 Julieanne Gilbert, Member for Mackay outlined that the projects will strengthen Mackay port's capabilities to handle diversified trade.
"The Port of Mackay is a place of work for about 360 people each day and is also critical to around 1,800 Queensland jobs in mining, agriculture and logistics and facilitates $1.6B of trade worldwide,"
"A tug berth facility inside the port and the wharf works will drive efficiency for trade and position the port to continue to grow – whether for new, breakbulk trade or existing commodities such as fuel, sugar and grain."
"Our ports, like the whole region, have been working hard to deal with the ongoing impacts of COVID-19, and we will continue to progress trade opportunities for regional growth," Mrs Gilbert said.
Nicolas Fertin, NQBP Chief Executive Officer outlined that Mackay's multi-commodity port continues to build momentum in growing and diversifying its trade, with the volumes in the past financial year the second-best on record.
"These works will further strengthen the Port's role as a key part of the Mackay economy and as a gateway to the central Queensland region,"
"The publicly owned multi-cargo import and export Port of Mackay is firmly established as a central hub for the movement of diverse cargo essential for central Queensland agricultural and mining industries.
"Additionally, we will be investing in upgrading the Hay Point administration building that houses Vessel Traffic Services.
"The tenders for these projects will be advertised on Q-Tenders and we will be looking to utilise the great local contractors and suppliers that we have in the Mackay region as much as possible." Mr Fertin said.
NQBP is a Queensland Government-owned corporation also responsible for the strategic ports of Abbot Point, Hay Point and Weipa in far north Queensland.
PROJECT OVERVIEW
New tug berth facility
– Construction of a new purpose-built, tug facility inside the port for its critical towage operation.
– The facility will cater for the current fleet requirements and support future expansion.
Wharf 1 upgrade
– This investment will improve infrastructure capability to handle extra-long (85m to 95m) cargoes to attract new trade opportunities and diversify.
– The construction works will involve extension of Wharf 1 access bridge to enable trade of longer breakbulk material, for example rail projects.
Hay Point Administration Building Refurbishment / Upgrade
– Essential refurbishment and upgrade of the interior fit outs and utilities of the building.
– The refurbishment and upgrade works will extend the usable life and cater for continued operation and usage of the building.
Mackay maintenance dredging
– Essential maintenance dredging is planned for up to 14 days at the Port of Mackay in late September / early October 2020.
– Maintenance dredging ensures efficient, navigable shipping depths for port users.
Wharf 4 eastern access deck upgrade
– Upgrade the Wharf 4 Eastern access deck to a custom steel deck increasing its width and capacity to accommodate over mass RoRo cargoes.
– This investment will improve NQBP's RoRo trade capabilities and create opportunities for trade diversification by enabling heavier and wider cargoes through the port.
Western Revetment
– Stabilisation works on a deteriorated sheet pile wall within the port area to improve safety.
– The sheet piling were remnants from an old temporary dry dock built for the construction of the Hay Point Jetty in 1973.
– The works will involve placement of 15,000 tonnes of rock material sourced from local quarries to form a new revetment structure.
We encourage you to like the Your Neighbourhood Facebook page, to be updated on other projects or developments.
Source: Information, Drawings and Images
All article information is sourced and available for review from referenced locations.
– Media Release: Port of Mackay's $17m shot in the arm for local jobs
– Images: NQBP website and Facebook

Subscribe to our weekly newsletter

Liked Your Neighbourhood ?
News articles are presented in an unbiased manner from information publicly accessible that include referenced links for the reader to obtain any further information. The facts of the proposed government projects, media releases, school upgrades and development applications are based on the available information at the time of the published date, with information sourced directly from company websites, media releases and development application material. We reference all our information at the end of the articles and promote the creators with website back links.
(Visited 498 times, 1 visits today)